Columbia Threadneedle Spread Monitor: Track fixed-income opportunities
[ "Blog: Latest Insights" ]
[ ]
Stay on top of fixed-income markets with this monthly update.
One way to understand where opportunity lies in the broad fixed-income market is to look at bond spreads — which measure the difference in yield between a bond and a risk-free benchmark like U.S. Treasuries. Our proprietary Spread Monitor measures this difference by examining 15 years of data.
Yield spreads can give market observers a quick snapshot of sentiment. For instance, when investors feel less confident and favor bonds — which have historically been less risky — yield spreads widen and investors are "paid more" to take on risk. Comparing current spreads relative to historical levels helps investors evaluate opportunities across fixed-income sectors.
Key takeaways for June 2022
Fears of a recession are driving greater differences in performance between higher and lower credit quality assets.
The compensation for assuming more risk is hovering near long-term averages for many credit sectors. But because of ongoing economic uncertainty, investors may want to be more defensive by focusing on quality and liquidity.
We favor higher quality assets like agency mortgages and investment-grade corporate bonds, which may offer better risk-reward going forward.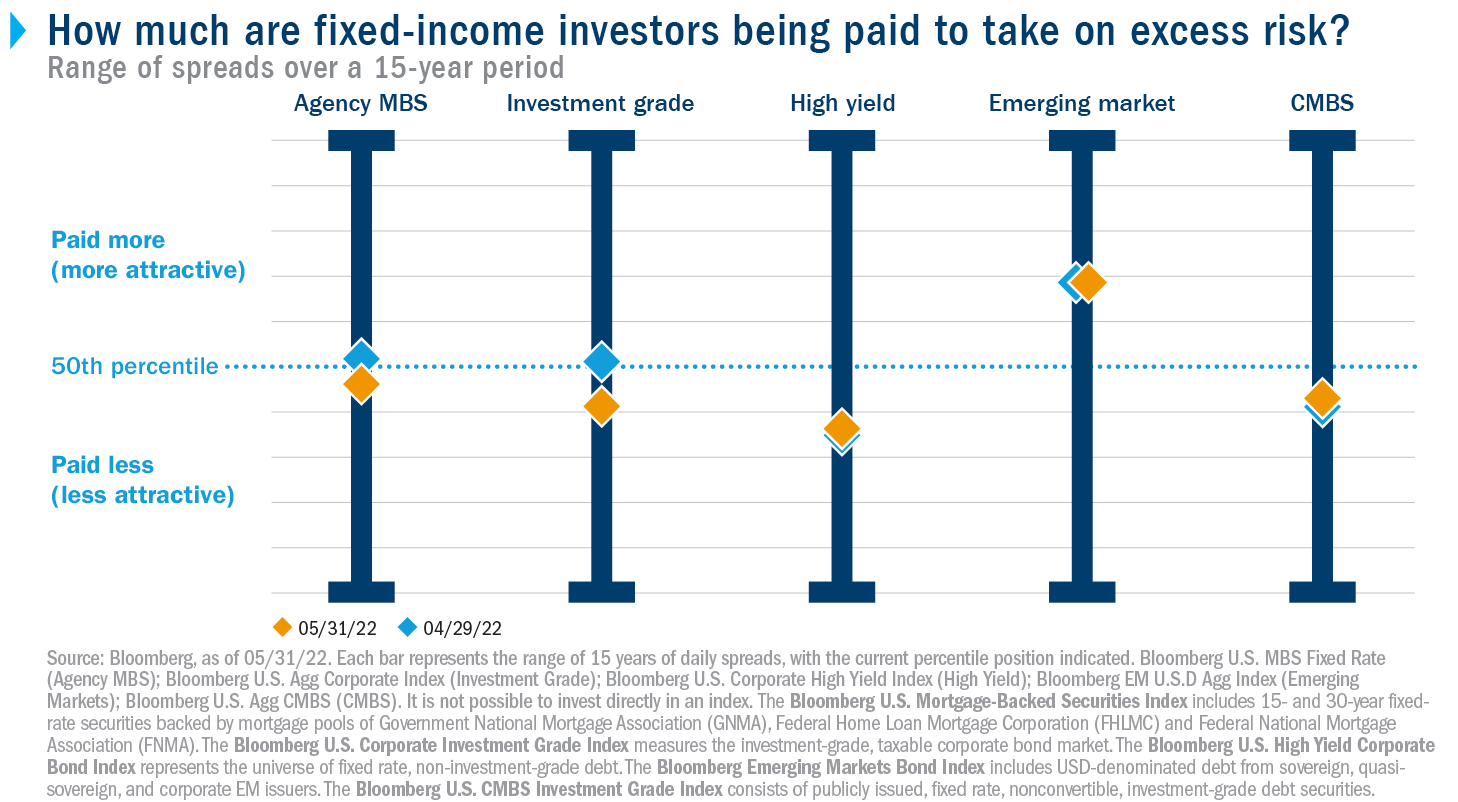 Bottom line
Credit spreads are one metric that investors can use to gauge the appropriateness of risk compensation in the bond market. A more thorough understanding of risk versus reward allows us to identify opportunities as they emerge and position portfolios for value.
Learn more about the importance of understanding spreads from Gene Tannuzzo, Global Head of Fixed Income.